This popular neighbourhood in Etobicoke remains one of the most sought out neighbourhood in Toronto's west-end. Being very popular amongst young families, it is highly coveted for its beautiful, spacious homes, proximity to Mimico Creek, secluded parks and excellent schools. This neighbourhood has a country-like feel, yet can be easily accessed through both public transit and major roadways. Sunnylea offers a sense of balance—being close to Bloor St West, it is within walking distance to many shops and restaurants yet simultaneously offers a sense of seclusion from this pedestrian heavy area.
Real Estate
Sunnylea is occupied by single-family detached homes, predominantly built in the mid 1900's. The homes occupy spacious lots and are generally solid brick or stone-front homes, making for attractive street fronts. A number of the homes feature beautiful detailing, including: bay windows, wrought iron fencing, and stone chimney's. Almost all homes include private driveways, and are detached, heightening the already coveted character of the neighbourhood.
The Sunnylea neighbourhood is almost exclusively zoned as residential, ensuring the residential character of the neighbourhood.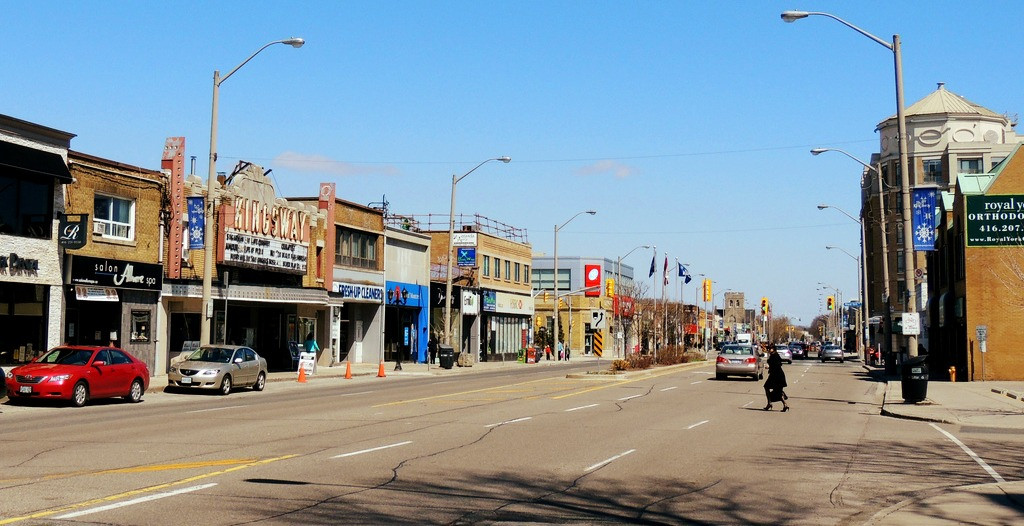 Lifestyle & Recreation
Kingsway Village and Bloor Street West provide the larges sources of entertainment in Sunnylea. Lined with various upscale restaurants, retail stores, upper-end shopping options, salons and bookstores, residents have access to many services and amenities within walking distance. These retail corridors are a haven for pedestrians, featuring wide sidewalks, many benches, and flower planters, making for a very attractive retail street.
One of the many perks of Sunnylea neighbourhood is its simultaneous proximity to ample park and green-space. Nearby park spaces include Sunnylea Park, Laura Hill Park, Spring Garden Park, and prominently, Mimico Creek.
Mimico Creek flows through Etobicoke, Missisauga, and Brampton, where its sections in Sunnylea are still exposed resulting in an array of park space and trails accompanying it. Beautiful marshes line the creek, allowing for scenic walking and cycling routes alongside it.
Schools
Popular amongst young and expanding families, Sunnylea boasts a variety of excellent schools.
Transportation
Boardering Bloor Street on the north, Sunnylea is a very transit friendly neighbourhood with easy access to the Bloor-Danforth Subway line. Both Islington and Royal York stations are walking distance from the neighbourhood. Various bus routes also filter through the neighbourhood, running along Price Edward Ave, Royal York Rd, and islington Ave.
Motorists can easily access Bloor St, Lake Shore Blvd, and the Gardiner Expressway, being able to access the Downtown core in roughly 15 minutes. The Gardener Expressway also connects to /highway 427 allowing for relatively easy access to other areas of the city and the Greater Toronto Area.